The Getup - Gold Digger / Fat Pat's Kitchen
€

6.00
On sale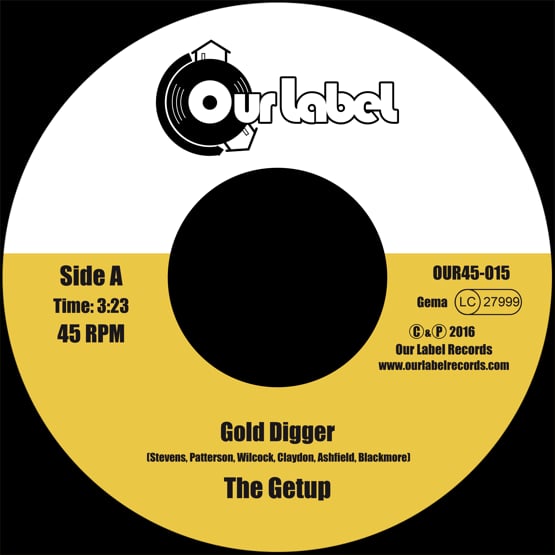 The Getup - Gold Digger / Fat Pat's Kitchen
Available on limited edition 7-inch vinyl, exclusively on Our Label Records.
Shipping costs are including insurance and registration of the package.
After the slammin' 7-inch "Take You Down", Britain's acclaimed Funk combo The Getup returns to Our Label with another heavy Funk-Doublesider. "Gold Digger" brings back the soulful vocals of Sasha, who will explain to you, why you should keep an eye on your wallet with some of the dates you are having. Never has a warning made you want to dance so much: tight horn section, a groove buried deep in the pocket and a whole lot of breaks. On the flip "Fat Pat's Kitchen" takes no prisoners with its dirty, angry hammond riffs and a spot-on rhythm section. Two dancefloor winners on one funky 45.
About The Getup
Since starting their own breed of Hammond-heavy horn-laden Funk in 2004 The Getup have gathered an impressive group of fans including DJ Snowboy and Craig Charles alongside many club and festival goers in the UK and all over Europe. They continue to impress music lovers all over with appearances at the famous Jazz Cafe in London or the Saint Paul Soul Jazz Festival. The Getup are:  Mark Ashfield (Hammond/Keys), Mark Claydon (Drums/perc), Ian Stevens (Bass), Lee Blackmore (Guitar), Stephen Wilcock (Sax/Flute), Tristan Gaudion (Trumpet) with Sasha Patterson (vocals) and guest appearances from Ben Greenslade-Stanton (Trombone/The Mighty Mocambos) and Mark Norton (Sax/The Fantastics).